This is where it starts, our values:
Dare – we dare to take steps no others have taken before and be pioneers in a new industry. We encourage our colleagues to take decisions by themselves, develop their own competences and knowledge, to believe in themselves, think outside the box and do things differently.
Care – our customers is our number one priority; we treat them like kings. We encourage our colleagues to take care customers, colleagues, work quality but also to celebrate their incredible colleagues.
Share – we believe in knowledge. As a pioneer in our industry, we constantly share our knowledge and expertise with our colleagues to constantly support self-development.
---
This is us:
Shift Electric Mobility is today active in 4 countries: Sweden, Denmark, Norway, and Finland. We deliver all-in-one solutions to automotive actors such as BYD. Every day we provide technical support to our customer all over the Nordics, in order to insure the reliability of their operation.
Our customers operate public traffic with electric buses and our responsibility is to insure their reliability in their day-to-day operation whatever the time, the weather, the failure.
Shift Electric Mobility has its headquarters in Jönköping, Sweden and is privately owned. We are part of the North Castle group. Long story short, we are small, entrepreneurial and strong!
Your role:
As a quality and process administrator, you will help us lift SHIFT Electric Mobility to the next level. Your role consists of three main activities:
Quality management
Internal process development
Administration of our operation
Quality management:
Meeting with customer, technical inspection, follow-up with the quality team at the manufacturer and development of an action plan for preventive maintenance or campaign. Your responsibility is to follow-up internal quality cases and escalate to the respective manufacturer/key actors. You follow-up and coordinate with your colleagues on the field, customers, operators and supplier quality team in order to take actions in good time. You initiate preventive maintenance, repairs, or warranty campaigns.
Internal process management:
Our growth is exponential. Our internal processes change often - and your responsibility is to build, coordinate and implement tomorrow's way of working within the organization. You take the primer step to identify and develop efficient workflows, processes, routines, in order to make our operation scalable and bulletproof. 
Operative Administration:
As a member of our operational team in our headquarters, you collaborate and support your colleagues with daily reporting and other administrative tasks such as invoices, purchase orders and resource management.

This is you:
Order, creativity, technical background, and love for process development are the keys to this position. You are our customers best friend - and because of that, we think that you need to be a social person who is used to have a lot of internal and external contacts in your work.
You are social, driven, want to change things and you're not afraid of challenges. We like it tough! No day is like another and you shall not be afraid to get new challenges every day, without knowing in advance how it will look like.
You are confident and have no problem to take responsibilities when they are given by your management. You take them with pride - and deliver results.
 Our wishes for you:
You have previously worked with trucks, buses, forestry, ground operations or heavy machinery, as a mechanic.
You have experience from working with administration and customer contact.
Technical interest - and love for customer interaction!
Fluent (written and spoken) in English, Swedish, and you can also understand the Norwegian and Danish language.
---
 Why Shift?
Our aim is not just to be pioneer in electromobility after-sales services, we want to be best-in-class. We started this journey with nothing but big ideas. Some early employees and customers believed in us and we work everyday not to disappoint them.
We do not believe in status-quo, neither in industry standards. We are new and here to take what's good from traditional actors and build the rest ourselves. The electromobility industry is new and ours to build.
Staff activities:
Work hard… play hard. We organise quarterly staff meeting where our whole crew from all Nordics is meeting in one location. We like to meet, spend time together for dinners and eventually party, just like a big family. Sometimes we race go-carts, travel the world, or attend Formula-E races.
Each year we travel to a secret destination for our yearly kick-off (last year we went to Marrakech to watch the Grand E-prix!)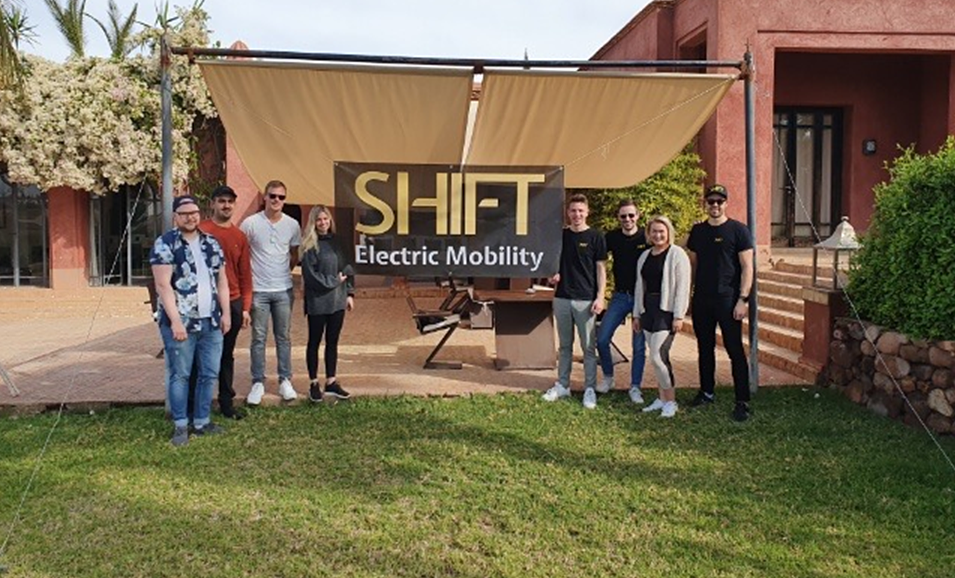 Start: May 2021
Location: Tenhult, outside Jönköping
Work type: 100% Full-time
Advantages: THE WHOLE SHEBANG!
Pension
Insurance
Yearly kick-off
Company activities
Telephone
Computer
Gym card
---
Is this you our someone yo know?
Send us your application in Swedish or English, right away - here! 👇🏼 
Svarar vanligtvis inom två veckor
Känner du några som skulle passa ännu bättre? Berätta det för dem.